Business advisors are able to add to their product range by creating capacity for offering turnaround and business rescue services, without having to register as business rescue practitioners.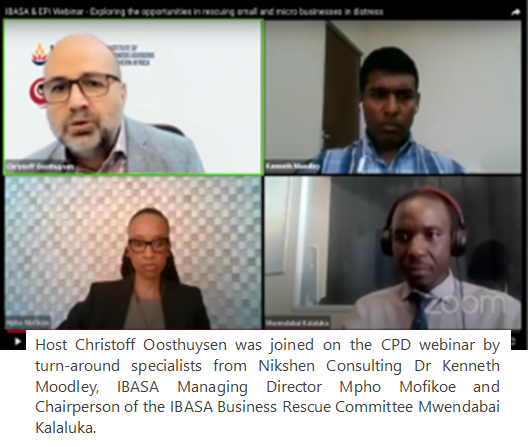 This was emphasized during a recent episode of the IBASA & EPI Webinar series, where Dr Kenneth Moodley (turn-around specialists from Nikshen Consulting) and Mwendabai Kalaluka (Chairperson of the IBASA Business Rescue Committee) explained how business advisors may position themselves to pursue opportunities in business rescue and turnaround for businesses in distress.
Kalaluka serves on the Department of Trade and Industry's Business Rescue Liaison Committee, where the impact of the formal business rescue process is being reviewed. During the webinar, he shared insights into an approach that is being considered where non-financial and non-accounting expertise will be elevated to equally important components of the formal business rescue.
As a result, court-approved business rescue projects will have to include advisory input falling within the competency set of business advisors and not accountants or lawyers. Such a shift, Kalaluka said, will create many new opportunities for business advisors.
In addition, formal business rescue is not the only form of offering businesses in distress a way forward for renewal and repositioning. Kalaluka identified five ways businesses in distress may respond, of which three have nothing to do with legal processes and are suitable for business advisors to focus on. The five options are:
Turnaround, which is suitable when a business encounters difficult times, where decline is experienced and where profits are falling;
Asset reduction, where short-term shifts in business performance are addressed by maximizing cash flow through the harvesting of assets;
Divestiture, where changes in the environment, innovation in technology, or other shifts require refocusing and business units not aligned with the core mission are sold;
Business rescue or court-endorse compromise, where a business in distress is offered breathing space from creditors so that restructuring can be implemented as a way of saving the business; and
Liquidation or winding up of a business that cannot be saved.
Apart from liquidation, all of the available interventions require advisory input, which business advisors are most suitable to provide, especially in the small business context. In this regard, Kalaluka mentioned that the Department of Small Business Development initiated a process to investigate how small firms in distress may best be accommodated so that access to business rescue measures become feasible. Currently, the formal processes are too expensive for smaller firms.
While business advisors are able to offer services without the involvement of business rescue practitioners, who are registered at the Commission for Companies and Intellectual Property, it does require specific advisory capacity and skills in areas such as strategic re-assessment, product realignment, and human resource restructuring, said Dr Kenneth Moodley, the second panelist on the webinar, who is a registered business rescue practitioner and turn-around specialists from Nikshen Consulting.
Business advisors can start by offering their services to registered business rescue practitioners — with the registered practitioners then becoming their clients — or take on informal turn-around projects, which in the small business context is much more feasible than formal business rescue processes, Moodley said.
Moodley explained that turnaround projects are a natural escalation of intensity of continuous improvement, which businesses need to implement even when not in distress. The skill sets needed for turnaround projects are not that much different from what is needed in continuous improvement, which offers business advisors the opportunity to start with smaller interventions and build up their capacity over time, he said.
It was noted during the webinar discussion time that it is not only business advisors that are required to improve their skills to take on turnaround projects, but also the owner-managers of businesses experiencing distress. The owner-managers need to be educated in the need for continuous improvement and be equipped to ramp up interventions at an early stage in the form of informal turnaround projects so that formal business rescue is not eventually required.
Moodley said that in the past, winding up a business under distress was seen as the best route, but there is more maturity now in that distress does not have to lead to liquidation. This opens up the opportunities for business advisors to add services in turnaround and rescue, be it as registered business rescue practitioners or through other non-registered advisory services.
During the webinar, two polls were presented, which offered insight into the experience and priorities of the business advisors who attended the webinar.
More than half of the participants (55.6%) said that they are skilling themselves to be able to do rescue or turnaround projects, while only 13.9% have participated in complex rescue or turnaround projects.
They indicated that they desire to be involved in small projects as registered business rescue practitioners (30.5%) and as non-legal and or non-accounting practitioners (27.1%). Interestingly, the desire to offer Covid-19 response services was low with a fraction of the attendees saying they would like to be involved in post-pandemic turnarounds (3.4%).
Author
Christoff Oosthuysen is the webinar host, Founding CEO of the Entrepreneurial Planning Institute (EPI) and General Partner at Seed South Capital.